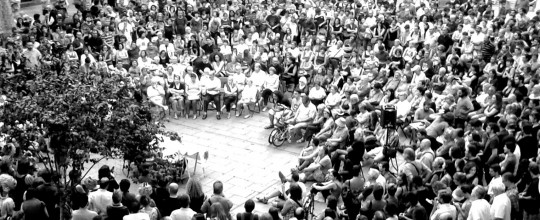 D-CENT Round Table: Decentralized Citizen Action and tools for network democracy
On the 8th of July 2015, D-CENT is organizing a Round Table discussion with citizens activists, social movements, and the developers of the new open source democracy tools. The event is a part of CAPS 2015 –  the second International event on Collective Awareness Platforms for Sustainability and Social Innovation taking place on 7-8 July, Bruxelles.  
The discussion will focus on questions like: How can we transform the political system and devolve power to citizens? What kind of online tools and digital infrastructures are needed to truly empower citizens in the democratic context? What kind of self-governance models can we adopt to build the new digital commons? What are shortfalls and strengths of government procured centralised platforms (e.g. the ECI), commercial social networking services (e.g. Facebook, Twitter) and open source democratic technology initiatives (e.g. CAPS, D-CENT, p2pvalue). 
The D-CENT Round Table and CAPS 2015 conference are free of charge but require registration: http://caps-conference.eu/#section-register
The discussion, starting at 14:40, is chaired by Francesca Bria, D-CENT coordinator from Nesta. Other speakers include Aral Balkan (Ind.ie), Jaakko Korhonen (Open Knowledge Finland), Daniel Freund (Transparency International EU), Carsten Berg (The ECI Campaign), Miguel Arana Catania (LaboDemo), Gareth Rogers (ThoughtWorks), Joonas Pekkanen (Open Ministry), Samer Hassan (P2PValue project) and Fabrizio Sestini (DG Connect, European Commission).
About the speakers:
Francesca Bria, Chair
Aral Balkan
Aral's work protects fundamental freedoms, human rights, and democracy by creating independent consumer technologies that don't spy on you. He is currently working on coding the core of the Ind.ie platform, a beautiful distributed social network called Heartbeat. Follow Aral on Twitter: @Aral
Jaakko Korhonen
Jaakko is a interaction designer with background in public sector, startups as well as in multinational enterprise. Jaakko loves making, and getting things done. He leads the Fluency Navigator, Biodiversity Map-, D-CENT and Freedom Of Information projects at Open Knowledge Finland. Follow Jaakko on Twitter: @jaakkokorhonen

Fabrizio Sestini
Fabrizio Sestini is Senior Expert (Advisor) in Digital Social Innovation within the unit "Net Innovation" of DG CONNECT of the European Commission. He is leading the team managing the multidisciplinary initiative "Collective Awareness Platforms for Sustainability and Social Innovation", which aims at stimulating bottom-up innovative ideas for collaborative platforms exploiting network effects (in networks of people, knowledge and sensors) to include citizens, grassroots organisations and civil society in participatory social innovation processes. On Twitter: @100fabrizio